Homemade yeast rolls in about 30 minutes is a reality with these 30 Minute Rolls
For more pretty & delicious be sure and follow me on Instagram.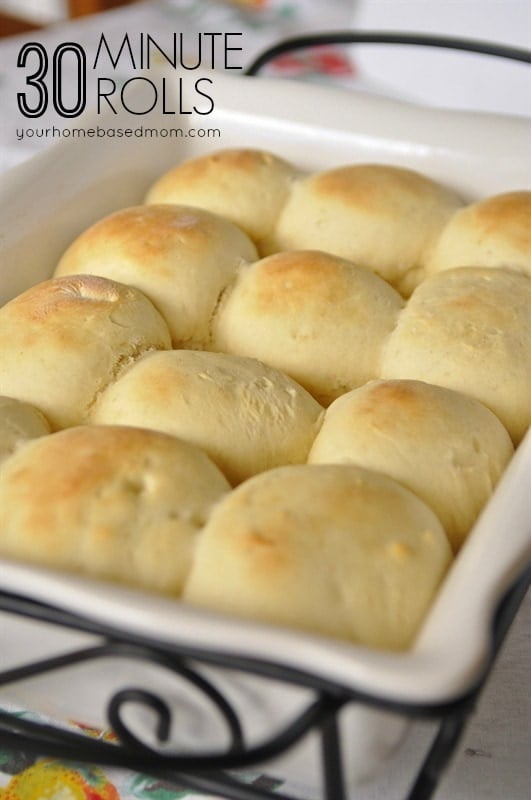 This post contains affiliate links.
I've lost track of how many times I have made these rolls in the last few months.  Let's just say it's been a lot.
And everytime I've made them everyone has asked "Is this recipe on the blog?"  I have been promising and promising it would be so now it is.
I found this recipe over at my friend Laura's blog – Real Mom Kitchen.
Believe it or not these rolls only take 30 minutes to make.  Start to finish.  Really!  And they are a yeast roll.  The other thing I love about this recipe is that it makes a dozen good size rolls.  You can make them smaller and make two dozen if you'd like.  But with our reduced size family we don't need two dozen rolls, we don't really need one dozen either so I know a few nice teenage boys that I like to share them with.
You mix the yeast, sugar, oil and water  together and let it rest for 15 minutes.  Then you mix up the dough and make 12 balls, place them in a 9 x 13 pan and let them rest for 10 minutes.
And then in just ten minutes they look like this.
And then after baking for another 10 minutes they look like this!
And they taste as good as a roll that took two hours to make!
Of course the best way to eat a fresh, warm roll right out of the oven is with lots of honey butter!
There you have it – quick, easy and delicious!  I promise!
Be sure and check out the Herb and Cheese Version I created too – it's so good!.
Recipe from Real Mom Kitchen
30 Minute Rolls
Author:
Leigh Anne Willkes
Ingredients
1 C plus 2 Tbsp warm water
⅓ C vegetable oil
2 Tbsp active dry yeast
¼ C sugar
1½ tsp salt
1 egg
3½ C bread flour (seems to work better but all purpose flour will also work)
Instructions
Heat oven to 400 degrees.
In your mixer bowl combine the water, oil, yeast and sugar and allow it to rest for 15 minutes. Using your dough hook, mix in the salt, egg and flour.
Knead with hook until will incorporated and dough is soft and smooth. (Just a few minutes)
Form dough into 12 balls and then place in a greased 9 x 13 pan and allow to rest for 10 minutes. Bake for 10 minutes at 400 degrees or until golden brown.