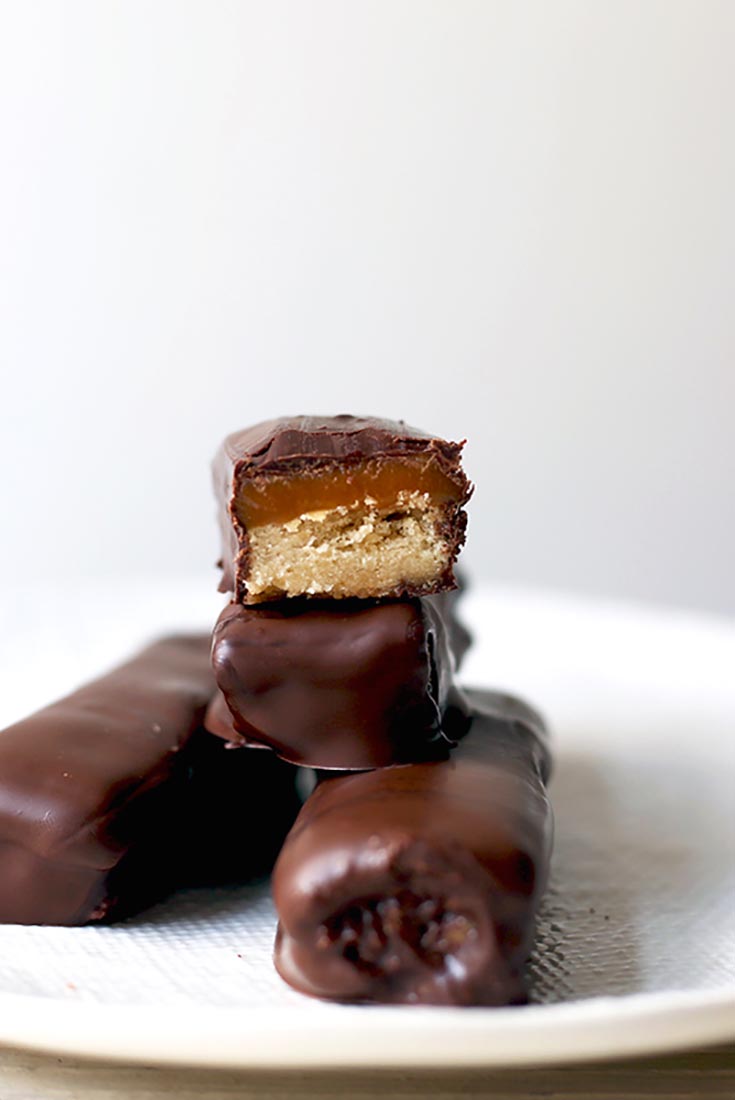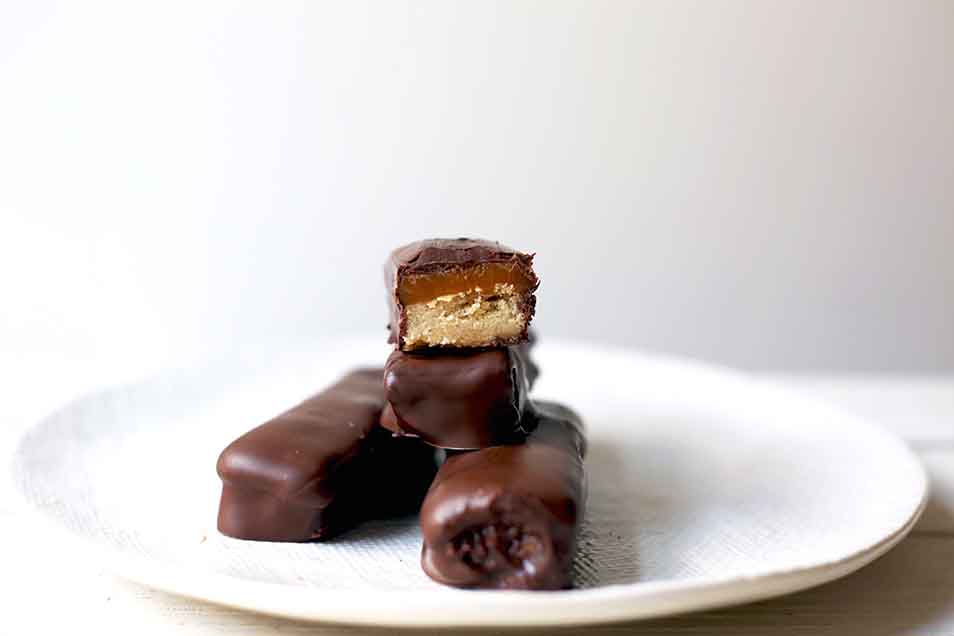 Caramel and chocolate are two of our favorite things here in the test kitchen. Chocolate cake with caramel icing, caramel bites with chocolate chips, we love 'em all.

Want to make heart-shaped bars for Valentine's Day? Rather than cutting in strips, use heart-shaped cutters to cut out hearts of any size you like. Enjoy the scraps as a baker's treat!


Ingredients
Shortbread layer
1 cup (2 sticks) salted butter, at room temperature
1 cup confectioners' sugar
2 teaspoons vanilla extract
Caramel layer
2 cups caramel, cut into small chunks
3 tablespoons heavy cream
Chocolate layer
3 cups chopped milk chocolate or dark chocolate, melted
1 tablespoon vegetable shortening (optional)
Instructions
To make the crust: Preheat your oven to 300°F. Spray a 9" x 13" pan lightly with cooking spray, or line with parchment, and set aside.

In a medium-sized bowl, beat together the butter, sugar and vanilla. Add the flour. At first the mixture may seem dry, but will come together as you continue to beat at medium speed.

Take the dough (it will be somewhat stiff) and press it evenly into the pan. Lightly flouring your fingertips will help with any sticking.

Prick the crust all over with a fork. The holes will allow steam to escape and the crust will bake evenly with fewer bubbles.

Bake the crust until it's lightly golden brown on top and the edges are deeper golden brown, about 35 to 45 minutes. Remove from the oven and immediately run a knife around the edges to loosen the crust. Set it aside to cool completely.

To make the caramel layer: Melt the caramel and cream over low heat in a small saucepan. Pour the caramel over the cooled crust and set in the refrigerator for 30 minutes to chill and firm up.

To make the chocolate layer: Melt the milk or dark chocolate slowly in a double boiler or over very low heat. If it seems very thick, add a tablespoon of shortening to thin it. Pour evenly over the chilled caramel layer and spread to cover all of the caramel. Return to the fridge until the chocolate is well set. Cut into 2" x 2" squares to serve. It's best to store these bars in the refrigerator.

These bars can also be cut and dipped in milk chocolate to resemble Twix ® bars. After the caramel layer has chilled firm, cut down the length of the pan, splitting the bars into two long, narrow bars. Then cut each long strip into "fingers". Dip the chilled bars into melted chocolate and place on parchment paper to set for several hours.
Tips from our bakers
For Valentine's day heart-shaped bars, use heart-shaped cutters to cut out hearts of any size you like. Enjoy the scraps as a baker's treat!
Reviews
I made this bar, pouring the chocolate on top as opposed to dipping. When I cut them, after overnight in the fridge, the cookie base cracked as I cut them. Everyone still loved! them, but I would like to make again and wondering if I can do so without the cookie base cracking? Was it something I did?

If the base cracked, it might be that it was overbaked. It will also help not to cut them while they are very cold- allow them to warm up a bit to make it easier to cut. Happy baking! Laurie@KAF
The shortbread was really good. Overall, I think they are GREAT, but I do have some issues and questions. The caramel layer was a bit thicker than I would like, but I am not sure if I can make it thinner and still be able to spread over the top since it is so viscous. My chocolate (and I am not experienced melting chocolate) was very thick. I could never have dipped into it. I ended up spreading on a thick layer. I did add two tablespoons of butter to try to loosen it up, but it didn't work and I was so afraid of it seizing that I just went ahead and spread it on. Now, for the eating... I took mine out of the refrigerator and tried to serve, but they were too cold and too hard. We let them sit but ultimately served them too cold. However, after letting them sit for a long time, the caramel started to liquify a bit and run out the sides. I just haven't found the exact way to do this. Either too cold and too hard, or too warm and losing the caramel. In any case, I think they tasted great overall (especially the shortbread) despite my issues.
These are fun, aren't they? Thin out the caramel with more cream. Be sure to warm the chocolate slowly for best consistency and/or use a better quality chocolate. These much easier to handle at room temperature, for sure. Let's try finding a solution together. Please call our hotline, 1-855-371-2253(BAKE) so we can give some other tips! Elisabeth@KAF
My coworkers and I called these sugar crack. So I'm using up supplies. Short bread base as written. Caramel layer used a can of Lechera but added about 2/3 cups of cinnamon chips to help it set. (Only problem here is a can is under 14 ounces so the caramel layer is a little thin.) Sprinkled with salt. Chocolate layer 10 ounces of Tollhouse dark morsels, 8 ounces of Baker's semi sweet and 2 ounces of Baker's unsweetened. Decided that could be a little bitter heavily sprinkled with cinnamon vanilla sugar. Corner piece was good. I really think that when I follow the recipe it will great.
I made this last night, but I made two versions. I made half with caramel and the other half with a peanut butter mixture using powdered sugar, butter, and peanut butter. My husband liked the caramel side and my daughter and I liked the peanut butter side. It was even better the next day after I stored them in the fridge overnight. I will definitely make these again. Thanks for the recipe!
I made these for my extended family, they LOVED them. For a twist I pressed pecans into the carmel on a batch. They were great. Since I did two batches I did half the pan milk chocolate and the other half the pan semi-sweet so everyone would get some they like.
These bars are absolutely wonderful. I'm working on perfecting a gluten free option and my son is enjoying each work in progress, but I want to get it just right before sharing. One recommendation regarding the caramel that has worked well for me is to put the caramel in a disposable decorating bag and microwave to soften and then to pipe the caramel on to each bar and then refrigerate briefly before covering in chocolate. I found some caramel too soft and the bars became quite messy, but this method ensures consistent results.
I was in charge of cookie hour at church last Sunday and I made this recipe. I generally don't make an untried recipe for something like this, but I figured, hey, this is KAF (a favorite!) we're talking about here, so I went for it. The chocolate part was yummy (used part milk chocolate and part 60% dark), the caramel was yummy tasting because it was the Peter's Caramel we use for caramel apples in our apple farm; I followed the directions and used the cream even though this caramel is a little softer than most and I don't add much when we use it in other bars. After refrigerating the finished cookies,, the caramel was awfully chewy, but when I let them warm up it was "runny" and squished out. Boo hoo, then my shortbread layer turned out crumbly- even though I thought it looked good after baking it. At this point, I'd say "Fifty Dollar Bars" ! Any suggestions on a better caramel choice or how I might have screwed up the bottom layer?
I'm sorry these bars didn't turn out as expected! You may want to choose a caramel that is firmer at room temperature for this recipe. You could either use store bought squares or our Peter's Caramel Block. You might also try leaving out the added cream when melting the caramel, if you are using a softer caramel. Since these need to be stored in the refrigerator, I would recommend serving when they are cool, rather than fully warmed to room temperature. For help troubleshooting the shortbread layer please call our Baker's Hotline at 855-371-BAKE(2253). Barb@KAF
This is a firm family favourite. However as a Brit whose been stateside for nearly 15 years they are called millionaires shortbread in the UK. I think you're undervaluing these truly awsome treats.
Smiles all around for this priceless review, Sue. Happy Baking - Irene@KAF
Fantastic! This is a homemade twix bar and is about as good as it gets. Lots of steps, but goes together easily. I've even used caramel ice cream topping instead of melting my own, as sometimes I think I overcook the caramel and it ends up being too tough to bite into. The ice cream topping is a little runnier, but still works. This recipe always gets rave reviews. I make as a bar cookie and spread the chocolate on top. I think dipping each bar in chocolate would require too much extra work and mess.
The caramel layer is perfect - soft enough to chew as it melts in your mouth, but sets well for the chocolate coating. I found that cutting them after applying the layer of caramel and allowing it to set, kept the shortbread from breaking into pieces.Using a large pizza wheel makes it easy to cut through both the shortbread and caramel layers and keep the pieces uniform in size. We found a 64% dark chocolate was a perfect balance of flavors for the caramel and shortbread. I hand dipped three quarters of each piece in the chocolate, finishing with a light sprinkling of toasted almond slices on the top layer of chocolate. Divinely delicious!