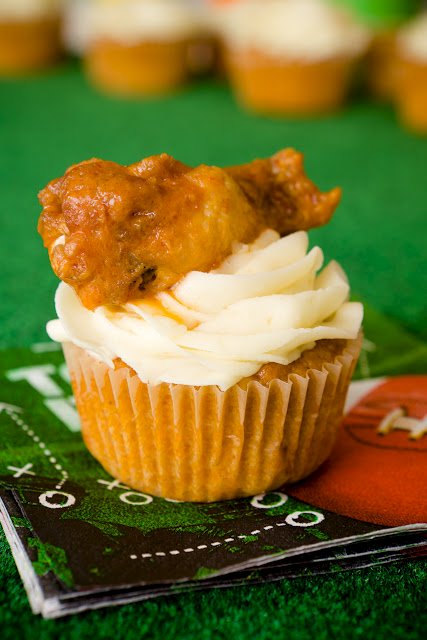 After hearing that I was going to bake buffalo chicken cupcakes for the Super Bowl (with hot sauce and blue cheese in the cake and a blue cheese buttercream frosting), one of my friends asked if I would be baking the cupcakes as as a joke.  "Are they just supposed to be funny, or will you actually enjoy eating buffalo chicken cupcakes?"  Having not yet baked the Super Bowl buffalo chicken cupcakes, I told them that I was baking them mostly for the fun of it.  I didn't expect them to be particularly good.
When my house started to smell like buffalo wings (there was no chicken involved at this point), I knew I had the flavor right.  When I took a lick of my cupcake batter-laden finger, I began to suspect that I was going to like the buffalo chicken cupcakes.  When I tasted the cupcakes hot out of the oven, I realized that I had created a new crowd-pleasing Super Bowl tradition.

Answers to Your Super Bowl Buffalo Chicken Cupcake Questions
Q.  Are the buffalo chicken cupcakes sweet?
A.  They are sweet in the way that cornbread is sweet. They have sugar, but they wouldn't make a satisfying dessert.
Q.  Are buffalo chicken cupcakes a dessert or an appetizer?
A.  I'd serve them as an appetizer.
Q.  Is there chicken in the cupcake?
A.  No, just on top.
Q.  Are the cupcakes spicy?
A.  It depends on which hot sauce you use.  I used a medium hot sauce and they were just a tad bit spicy.
Q.  Is the blue cheese overwhelming?
A.  Blue cheese can easily become an overpowering flavor.  I put just enough blue cheese in the cupcake and frosting to give them some tang without making the whole thing taste like blue cheese.
Q.  Which team are you rooting for?
A.  Since the Rams are already out of the running, I've got to go with the Giants.  I grew up in New York so they were the team my family always cheered for.
Buffalo Chicken Cupcake Recipe
Buffalo Chicken Cupcakes for the Super Bowl
Ingredients
For the cake

1/2 cup hot sauce (I recommend a hot sauce that is typically used for Buffalo chicken. Frank's is the classic choice. I used Bella's Medium Wing Sauce.)
1/4 cup unsalted butter
1/2 cup crumbled blue cheese
1 cup brown sugar
1/4 cup + 2 tablespoons sour cream
1 egg
1 cup flour
1 1/4 teaspoons baking soda

For the blue cheese buttercream frosting

2 ounces crumbled blue cheese
1/2 cup unsalted butter, room temperature
2 cups powdered sugar
Instructions
To make the cupcakes

Preheat oven to 350 F.
In a medium-sized saucepan on medium-high heat, heat hot sauce and butter until butter is melted.
Add the blue cheese and mix periodically until blue cheese is melted.
Remove from heat and mix in the sugar.
In a small bowl, whisk together the sour cream and egg.
Once the hot sauce mixture is cool enough to touch, mix the sour cream mixture into the hot sauce mixture.
In another small bowl, mix together the flour and baking soda.
Fold the flour mixture into the hot sauce mixture.
Fill cupcake liners 3/4 full.
Bake for 20 minutes or until a toothpick comes out clean.

To make the blue cheese buttercream frosting

Mix blue cheese on high speed until smooth.
Add the unsalted butter and mix on high speed until light and fluffy (about 3 minutes).
Slowly mix in the powdered sugar until fully combined.
Pipe or spread onto cooled cupcakes.
Notes
*See serving suggestion at the end of this post
http://www.cupcakeproject.com/2012/01/buffalo-chicken-super-bowl-cupcakes.html
The Buffalo Chicken Drummette on Top of the Buffalo Chicken Super Bowl Cupcakes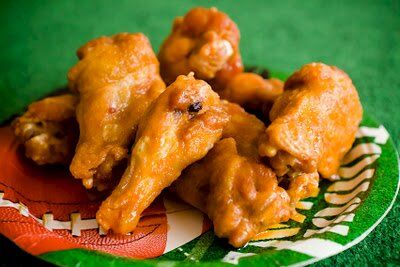 Just before serving, top the cupcakes with buffalo chicken wings or buffalo chicken drummettes.  Imagine the frosting as a sweet blue cheese dip and dig in!