I have a confession to make: I hate don't like cranberry sauce. Well, that is a bit of an exaggeration…I don't like HOMEMADE cranberry sauce. I much prefer to eat the jellied sauce from a can. *mmm* Deliciousness! I've been this way ever since I was young, and my mom is the same way. So, I have always been content to have a can of cranberry sauce for Thanksgiving. But, for our first year hosting I wanted to go all out and provide a homemade alternative to the jellied stuff. I just couldn't bring myself to make cranberry sauce, though. So I decided to make this chutney, and boy am I glad I did….it's SO yummy! It's sweet and tangy and a little spicy all at the same time.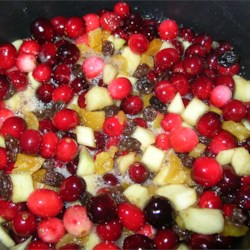 *img src*
What You'll Need:
1/4 C. Dried Apricots, Chopped
1/2 C. Brown Sugar
1/2 C. Raisins
1 C. Water
3 C. Cranberries
1 Granny Smith Apple
1 tsp. Lemon Zest
1/4 C. Lemon Juice
1/4 C. Chopped Crystallized Ginger
1/2 tsp. Red Pepper Flakes
In a saucepan, combine apricots, brown sugar, raisins, and water; bring to a boil. Reduce the heat to simmer, and stir for 5 minutes. Stir in cranberries, apples, and lemon zest; simmer 10 minutes more. Add lemon juice, ginger, and pepper flakes to the mixture before removing from heat. Serve chilled or at room temperature.
Linked To & Featured At: